GREENSTAR 3 Direct and Indirect
The GREENSTAR 3 range is meticulously crafted to deliver exceptional performance without compromising on architectural design and engineering excellence
Description
To complement contemporary structures, architectural lighting must possess adaptability. The flexibility of architecture calls for lighting solutions that can enhance and elevate the quality of work. As a leading provider of linear lighting solutions, the GREENSTAR 3 range meets the unique needs of architects, interior designers, and engineers. Our primary objective is to illuminate your creative vision and augment the aesthetic allure of your architectural projects.
We have reimagined our popular GREENSTAR range with cutting-edge diffusers that not only enhance lighting efficiency but also elevate aesthetics. The PlexiLED diffuser ensures exceptional light diffusion, while the Parabolic Louvre promotes uniformity and reduces glare. Equipped with advanced Glare Control technology, these diffusers deliver optimal visual comfort in various settings, day and night.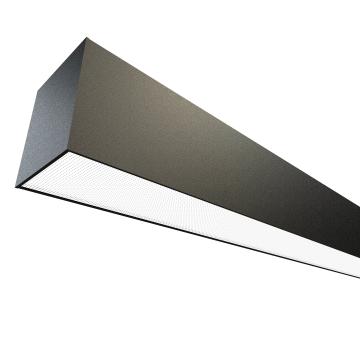 More than just linear light

With multiple sizes, profiles and optics, GREENSTAR 3 is designed to enhance lighting efficiency and aesthetics


Circular economy and sustainability

GREENSTAR 3 follows the principle of the circular economy, aiming for responsible use of resources. With its highly recyclable materials (aluminium) and future-proof design, GREENSTAR 3 is a reliable, long-lasting and repairable lighting solution

GREENSTAR 3 Profile Systems

Full range of profiles from 45mm to 75mm, including Square, Slot, Slot, D/I and Recessed

GREENSTAR 3 Optics

High performance PlexiLED, Parabolic Louvre, Glare Control, Day and Night diffuser. All diffuser designed for a uniform appearance with no visible spotting and no light leaks on end plates and joins.
Ready to design with flexibility and diversity
With a wide range of options available, our lighting solutions are designed to illuminate your next project with precision. Choose from multiple sizes, profiles, and optics to achieve the perfect lighting effect. Our profiles include Square, Slot, Recessed, and D/I, allowing you to find the ideal fit for your specific application. When it comes to colour, our offer is not limited to black, natural anodised, and white finishes, to ensure a seamless integration with your design aesthetic, possibilities are endless.
Top-tier for a circular economy
GREENSTAR 3 stands out for a circular economy as the strict Circle Light Label assessment on 12 criteria demonstrates. The GREENSTAR 3 circular score is remarkable, not only due to its high efficiency but also because of circular features:
fully recyclable materials
modularity in design
future ready for replaceable LED engine
Our standard profile offer includes, 45, 60, and 75 Direct and Indirect. Use the Austube Custom Configurator to design and build your customised lighting system. The configurator generates customised IES files and datasheets according to your specification.
Characteristics
General Information
Electrical information
Performance

Luminaire efficacy - up to (lm/W)
Optical information

Colour rendering index (CRI)
Housing and finish

Housing

High grade aluminium profile

Finish

Natural Anodised or Powder Coated

Tightness level
Lifetime
Operating conditions
Dimension and mounting

Dimensions and mounting

AxBxC (mm | inch)

75 GS3 D/I - 75 x 96 - W x H (mm)

60 GS3 D/I - 59 x 110 - W x H (mm)

45 GS3 D/I - 44 x 95 - W x H (mm)
Control systems
Control link